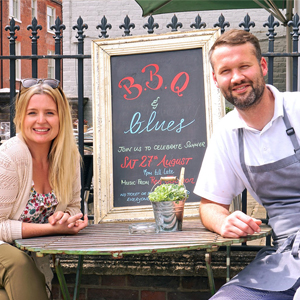 The Crate & Apple
  JANUARY 2017 Blog:  
Since Eve Ate Apples: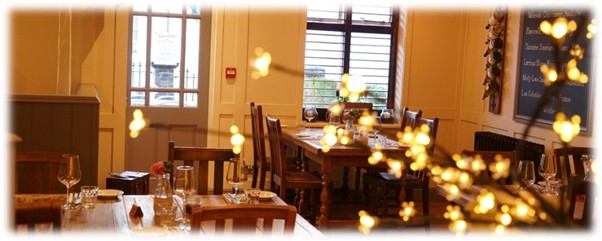 A big thank you to all who supported our pub this past year, 2017 shaping up to continue events, old and new, for your diary. We look very much forward to booking a table for lunch or dinner as well. The logs are burning in the woodburner and our welcome as warm as ever.
.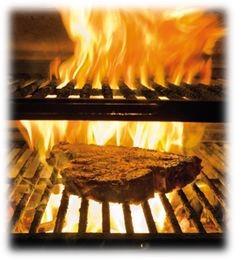 As promised in December, we've organised the first Steak Night for Monday, January 16, more dates to come to enjoy two ribeye steaks, chips, Béarnaise sauce and watercress and a bottle of Argentinian Malbec for the giveaway price of £28.
Wednesday January 18 is our first of many Locals Night, a 2 or 3 course menu (£12/£17 offering a homemade seasonal soup, possibly a warming, moreish mushroom one with crusty bread or ham hock terrine with Piccalilli and toast followed by Pork sausages with creamy mash and veg or a squash, chestnut and sage risotto with rocket and Parmesan. Two great desserts are yours for the taking: chocolate brownie with vanilla ice cream and pistachio brûlée with sablé biscuits.
But that's not all! Burns Night is celebrated in style on Wednesday 25 January, two courses £15, 3 courses for £20. ScotsWha Hae away with cullen skink, that warming smoked haddock soup; vegetable Scotch Broth or a rib-sticking black pudding Scotch egg. Haggis and neeps are a must, other winter choices slow braised shin of beef or kedgeree. Naturally, there's a Cranachan, the whisky cream, heather honey sweet or marmalade pudding or a whisky brûlée. Come and celebrate in true Scots style.
Bingo Nights are on the cards too as well as our Knitting Club and Book Club. Join us!
Our full menus are on the go too such as the ham hock terrine and the haddock risotto.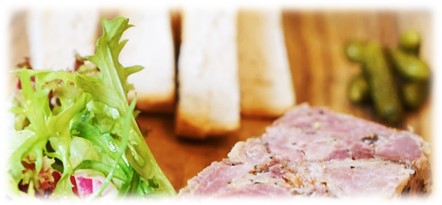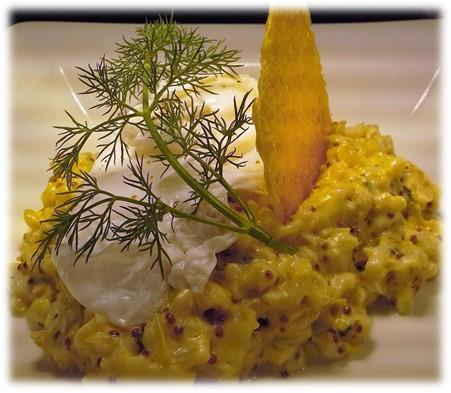 See you at the Crate! Charlotte, Martin and Team
Welcome to the Crate & Apple Mid-November 2016 Blog:  
Since Eve Ate Apples:
A warm welcome from Charlotte, head of front of house and Martin, head chef
The kitchen – in tandem with the front of house team who beaver successfully away creating new events including our DJ Christmas Nights, the Crate Pub Quiz, Cinema Nights and so much more – have been creating new dishes for ourAutumn/Winter Menus. Pleasures of the autumnal table include a wild boar Scotch egg; maple-baked ham hock terrine with homemade piccalilli; a smoked duck with walnut, fig and pear salad for starters.
Martin, Mitch and the kitchen team have been very gratified for the fab feedback on their newest main dish creations too, a lush local Southdowns pheasant breast Kiev with champ mash and blackberry jus; fillet of sea bass with Jerusalem artichoke purée; venison haunch steak with a little mushroom pie, roast garlic and a red wine sauce, equally going down well for lunch or dinner is the natural smoked haddock with pearl barley risotto, grain mustard cream, poached duck egg and Parmesan tuile, the dish causing one restaurant critic to declare it 'one of the best dishes to come out of this remarkable kitchen,' the dish polished off with gusto. Plenty of choice too for vegetarians, vegansand pudding lovers. Coconut rice pudding with winter fruit compote, sticky toffee pudding, roast plums with vanilla Chantilly anyone?
Below you'll see pictures of the stunning risotto, the moreish, garlicky pheasant Kiev, the handmade sausage rolls, part of the bar food's homemade offerings and the Jerusalem artichoke. The latter are a puzzle to some but fear not. The root vegetable is named after Girasole, the Italian name for sunflower and is a member of the sunflower family, the title corrupted to Jerusalem. Their nutty, sweetish flavour marries well with potatoes but can be used in soups, salads, purées.
Have a look on the website for a look at the full menu. We all look forward to cooking for you and to give you a good time at our country pub in Chichester.
Pearl barley risotto with natural smoked haddock, grain mustard cream and Parmesan tuile
Pheasant breast Kiev with champ and blackcurrant jus
Homemade sausage rolls just out of the oven – they are served with pickles on the bar menu
The Jerusalem Artichoke which is made into a purée to go with the local sea bass
Welcome to the Crate & Apple November 2016 Blog:  
Since Eve Ate Apples:
A warm welcome from Charlotte and Martin who celebrate Crate & Apple being chosen as one of the Top Ten Pubs of the Year (Chichester Observer).
 Boy, have we been busy! Busy raising funds for the nationwide MacMillan Coffee Morning with a stunning 20+ cake-judging which yielded a massive £608.00 for the charity. Our many thanks go to the cake makers – chocolate, carrot, coffee amongst the flavours – and to our local businesses for their terrific raffle prizes. Naturally, we thank those who kindly supported this, our first Macmillan Coffee Morning and to our judges Paul and Carol, aka Paul Hollywood and Mary Berry, who gallantly rose to the challenge.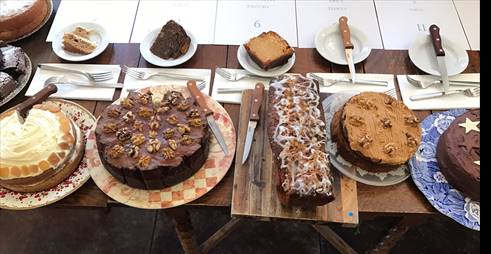 We've been entertaining keen film lovers with our first-ever Cinema Night on October 16, kicking off withSome Like it Hot with the ever-fragrant Marilyn Monroe, our next film night and roast supper to be announced shortly. We couldn't do it without our terrific cineaste Alan Taylor for his film equipment (see the fine beast below) and for his Monroe-Tony Curtis-Jack Lemmon comedy intro.
Audience and equipment (in background, diners before the film).
Our Quiz Nights with Simon Tooley get the thumbs up by many so get your team together for the next one on 13 November.
Join our ever-popular Michael Bublé Night (28 Nov) too. We're non-stop planning too with more events to come including Locals Nights and Steak Nights, both scheduled to start in January. Keep an eye on the website and on blog for details which will also feature in the pub. And get those knitting needles into action on Monday mornings at 10 am at our Knitting Club.
But get into gear first for Christmas with our DJ Christmas Nights on 9, 10 and 23 December, music including Motown, Funk, Pop and those evergreen Christmas Classics. We've also added a special event,Westgate Residents Christmas Party on 7 December offering a £12 deal including mulled wine, minced pies and a buffet.
Have a look at our autumnal menu, Martin and staff keen to spoil you with their varied menu as well as the Christmas Menu, now on the website. It's a grand one, and not to be missed.
Boy, are we enjoying the variety and hope you do too!
Charlotte, Martin and Team.
Welcome to the Crate & Apple September 2016 Blog:
Since Eve Ate Apples:
Stop Press: We're now in the just-out Good Pub Guide!
Our second summer at our smart town pub with the feel of a country inn has been remarkably busy and there's no let-up – thank you, all! – as we go into autumn (as very proud Good Pub Guide new entrants – we bow to your applause!) with a whole new range of offerings alongside our Knitting and Book Clubs and the Westgate Residents' Association get-togethers.
First up, two Crate Pub quizzes with quizmaster Simon Tookey, the first one on Sunday, 25 September for Locals followed by an 'Open for All' on Sunday 9 October. Book with manager Lisa on 01243 539336 for your table of 4 minimum/6 maximum @ £12 per person.
A Chichester first: see a film with a meal when we launch our monthly Cinema Mondays from Monday, 17 October with projectionist Allen Taylor of The Projected Picture Trust, the film, a classic, to be announced alongside the special menu. Lisa's on 01243 539336 to book this first-ever event and future ones.
Support your local cake makers! Macmillan Coffee Morning, The World's Biggest Coffee Morning is the nationwide charity's biggest fundraising event for people facing cancer. Last year alone they raised £25 million via MCM donations. Help us to add to this by coming along on Friday, 30 September – 9 – 11 am – for coffee (or tea) and cake to see the three judges at work deciding on the best CAKE entry.
All this and Good Food Too! Our new Autumn Menu is a dazzler. See those dishes below including one of our breakfast offerings – Smoked Salmon with Scrambled Eggs – Roast Lamb Rump with apricot and pinenut stuffing, Ruby Chard and Puy Lentils – Roast Peaches with Madagascan Vanilla Chantilly.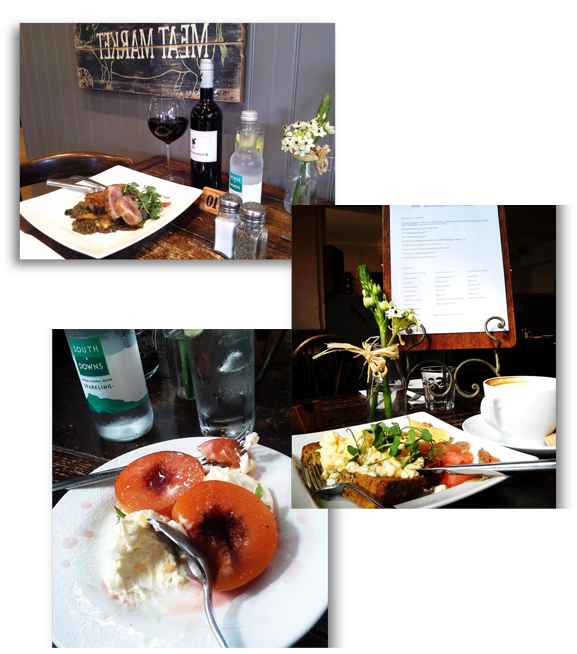 Have a look at our menus: Starters, Mains, Desserts, Sandwiches, Breakfasts & Children's to view other pleasures of the table including Selsey Crab Scotch Egg with Shaved Fennel & Lemon Mayo; Ham Hock Toast; Sea Bass; our Vegan baked Aubergine, Ratatouille & Chickpea Fritters; Rib of Beef; Bavette Steak; Dark Chocolate Hazelnut Tart with Raspberry Sorbet – and so much more.
Here's a collage of other pictures taken a few days ago: Our little pots of sauces; come for a pot of tea; nuts of all kinds, anyone?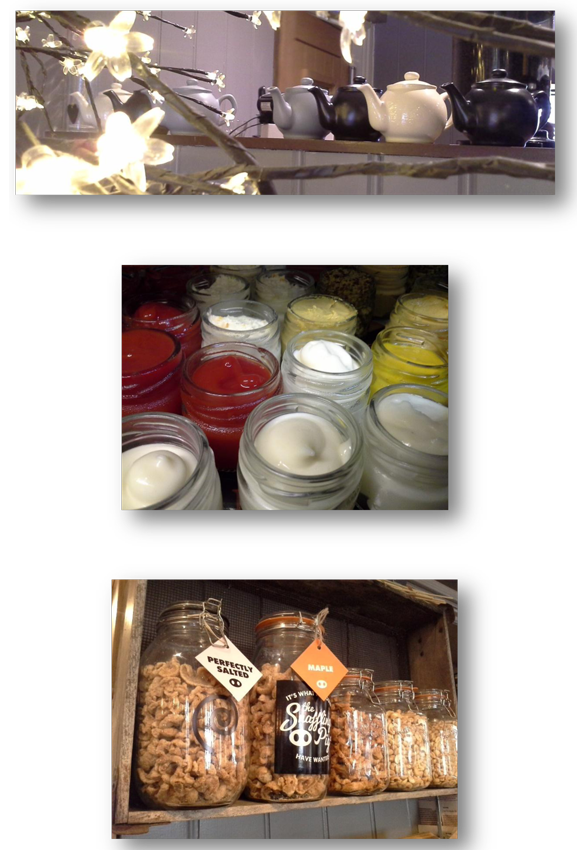 See you at the Crate! Charlotte, Martin and Team